GIRLS BASKETBALL: No. 2 Vikings explode past Wonders to stay in a tie for first in the conference
Staff report

Jan 18, 2020 Updated Jan 18, 2020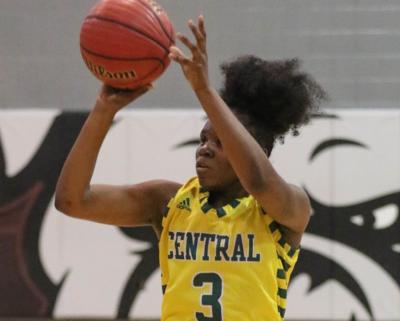 Central Cabarrus guard Ja-el Miller, seen in this file photo, led the way for the Vikings against A.L. Brown.
Joan Moore/Special to The Independent Tribune
KANNAPOLIS – The Central Cabarrus girls basketball team, listed at No. 2 in the Independent Tribune's Cream of Cabarrus rankings, knew it had business to take care of in order to maintain a first-place tie South Piedmont 3A Conference standings.
That's exactly what the Vikings did Friday night, as they burst past A.L. Brown, 55-36, at Bullock Gymnasium and earned their fifth win in a row.
The game was never really close, as Central Cabarrus led 20-2 after the first period.
Senior guard Ja-el' Miller led the Vikings with 15 points. Fellow seniors Demi Case (15 points) and Aniyah Tate (10 points, 12 rebounds) also had big nights to help Central Cabarrus improve its record to 12-5 overall and 3-0 in the SPC.
The Vikings are in a tie for first place in the league with No. 5 Cox Mill, which defeated Concord on Friday. Central Cabarrus will play host to the Chargers next Friday in a battle for sole possession of the top spot.
Senior guard Jala Campbell paced A.L. Brown (5-11, 1-2) with 11 points.
SCORING SUMMARY
Central Cabarrus 20 13 10 12 – 55
A.L. Brown 2 10 14 10 – 36
CENTRAL CABARRUS – Ja'el Miller 16, Demi Case 15, Aniyah Tate 10, Webb 6, Barrie 3, Gaddy 2 Knight 2 Haley 1
A.L. BROWN – Jala Campbell 11, Simmons 9, Smoutherson 4, Green 6