FRIDAY NIGHT FOLLOW-UP: Vikings have positive signs entering playoffs
BY KYLE NEWKIRK Special to the Independent Tribune

Nov 11, 2019 Updated 18 hrs ago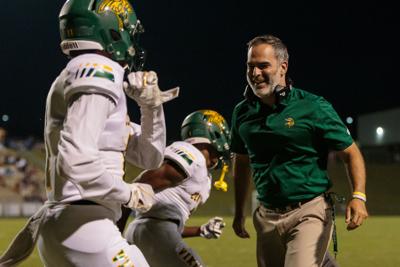 Central Cabarrus coach Kenneth McClamrock celebrates with his players.
Lester Barnes | Special to the Independent Tribune
CONCORD – After a disappointing, 25-point loss to Cox Mill a week ago, the Central Cabarrus football team was struggling.
Battling several injuries, a knock to their confidence record and on the verge of missing the playoffs, the Cream of Cabarrus No. 5 Vikings needed to bounce back in a big way against Jay M. Robinson Friday night.
Vikings coach Kenneth McClamrock called in the right prescription for his squad with a dominating 44-7 victory over the Bulldogs that laid the groundwork for a push into the 3A state playoffs.
The Vikings (7-4) ultimately received the West Region's 11th seed and will travel to sixth-seeded Winston-Salem Mount Tabor (7-4) this Friday.
McClamrock said his team was prepared when it faced Jay M. Robinson.
"We saw a little pep in their step tonight; they were excited," McClamrock said. "We had a good week of practice. Football is a game of passion, and whenever you show it, you usually play well. And when you don't show it, you don't play well."
With star DeAndre Boykins limited to a few defensive plays because of an injury, quarterback Dajon Johnson returning from an injury, and several other key players missing from the lineup, the Vikings needed to find some stability to build on for the last portion of the season. They found it in their defense, particularly with leadership from seniors Logan Anderson, Brooks Lawing and Nehemiah "Nemo" Williams.
"We have a bunch of guys who have been banged up for a while, and we have been trying to get some guys recovered while still getting them some reps," McClamrock said. "DeAndre is one of those guys.
"What we needed was to go into the playoffs with some momentum. We needed to get some confidence back, and hopefully we have been able to do that."
One guy who should go into the playoffs with an extreme amount of confidence is Williams, who had the best game of his career when it mattered most.
Williams was everywhere Friday night.
He caught a 15-yard laser from Johnson for a second-quarter score that extended the Vikings' lead to 16-0, followed by an electrifying 83-yard kickoff return for a touchdown to start the second half, and then he had a 59-yard "Pick-6" interception return.
"What a great game by Nemo," McClamrock said. "He scored on a kickoff return, caught a TD, had several big defensive plays for us. That's the big-play capability he has had for a while, and finally the light is starting to click for him."
Johnson also showed his big-play ability, connecting on seven of 12 passes for 72 yards, including several throws that displayed his arm strength and scrambling skills. He also executed a perfectly schemed quarterback draw for a 14-yard touchdown to open the scoring.
If Central Cabarrus wants to make a run in the playoffs, the defense will have to play a pivotal role. With linebackers Anderson and Lawing anchoring the middle of the defense, along with Native Johnson, Nate Frazier and Williams roaming in the secondary, the Vikings could have an impact in the playoffs.
"We need a good week of practice next week," McClamrock said. "We have some guys who are still banged up, and they are getting a little bit closer to 75-80 percent, and we get some guys back who have not played the last couple of weeks, and we will see what next week brings."